STICKY AND CRISPY ASIAN CHICKEN WINGS
These Sticky and Crispy Asian Chicken Wings have the perfect crunch and sticky sweetness – the BEST chicken wings!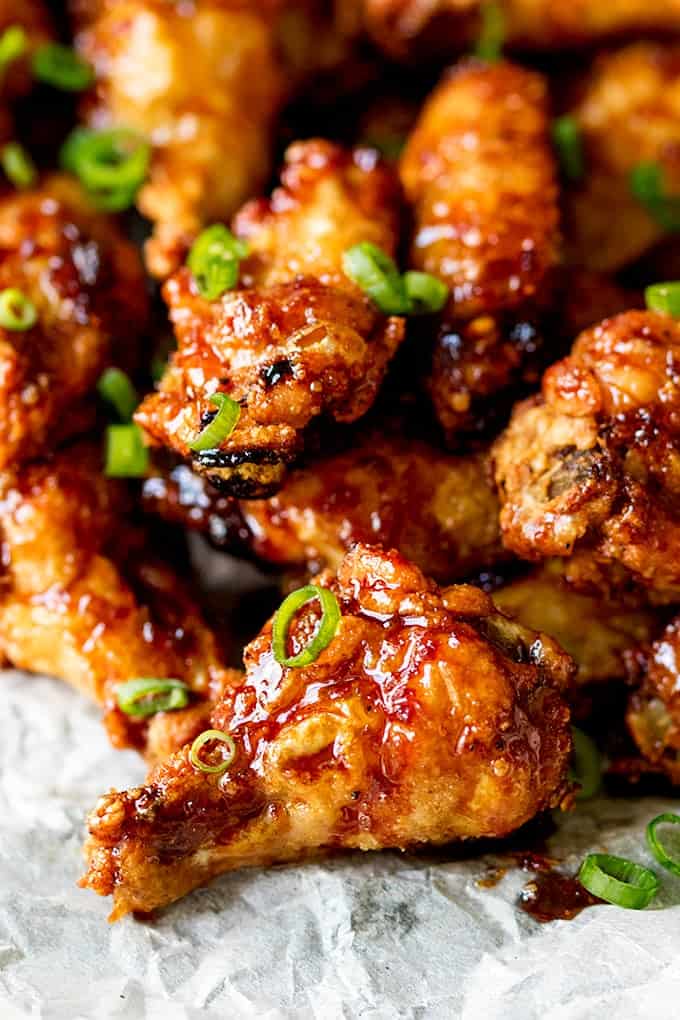 Telling you that these chicken wings always go down well is a serious understatement.
The first time I made them a couple of years ago, Chris was at work, so I served them up to the kids and got the following responses:
Complete silence for the first 10 minutes (except the sounds of frantic chewing/crunching)
Eyes rolling back in heads
Phrases like 'you're the best mummy ever', 'we're so lucky to have a mummy who's a food blogger' and 'oh my gosh these are the best things I've ever tasted'
All in a day's work hey!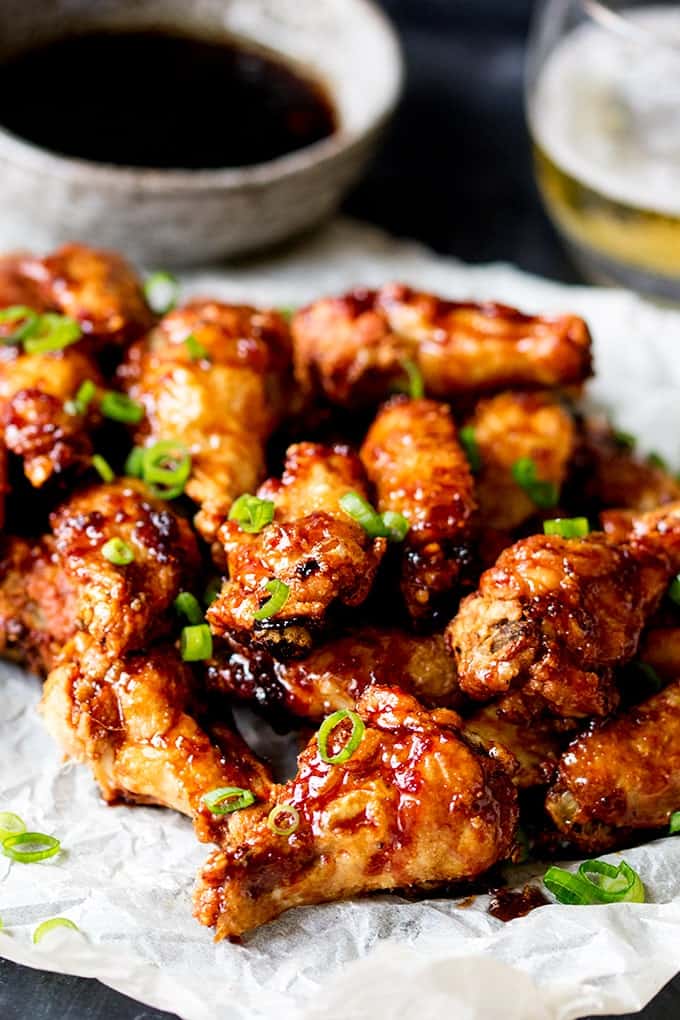 When Chris did come home from work, he had 5 minutes before he had to be on a phone call, so he literally hovered over the plate I'd saved for him and devoured the lot.
4 people, 1.5kg of chicken wings. Gone.
The crispiness of the chicken wings is amazing – especially considering they're oven baked. I have
Nagi's recipe
from Recipe Tin Eats to thank for that. She's the chicken wing queen!
Each wing is chopped into the two pieces, then mixed in a bowl with baking powder (it HAS to be baking powder, NOT baking soda), salt and pepper. There's quite a lot of baking powder and salt in this recipe, which sounds a little strange, but it really draws the moisture out of the chicken to get that perfect crunchy crispness.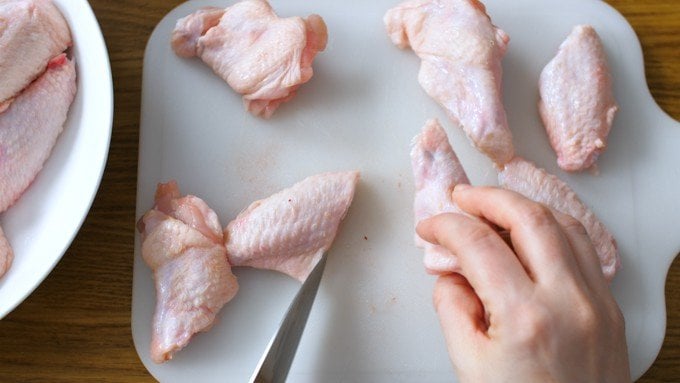 They're cooked at low temperature initially, to slowly render out the fat, then the heat is turned up until the wings are crisp and browned.
The delicious sticky sauce is based on the one I use for my
sticky Chinese pork belly
(another family favourite!). I doubled it for this recipe, and changed a couple of the quantities very slightly.
It's poured over the wings right before serving, and it works so well
CAN I MAKE THESE CHICKEN WINGS GLUTEN FREE?
Yes, you can replace the soy sauce with tamari. Also, make sure you're using a gluten-free baking powder and sweet chilli sauce.
CAN I MAKE THEM AHEAD?
I prefer these wings fresh out of the oven, but you can make the wings ahead – without the sauce- then cool, cover and refrigerate for up to a day. Reheat them on a wire rack over a tray for about 5-6 minutes at 200C/400F until they're crisp again.
You can also mix the sauce ingredients together, then cover and refrigerate (uncooked). Pour into a pan and boil as per instructions before serving.
EQUIPMENT USED:
In order to make these amazing Sticky and Crispy Asian Chicken Wings you will need:
THE STICKY AND CRISPY ASIAN CHICKEN WINGS RECIPE:
Sticky AND Crispy Asian Chicken Wings
These Asian Chicken Wings are Sticky AND Crispy. The best party food ever!
1.5

kg

chicken wings

2 level

tbsp

baking powder

(It has to be baking powder, NOT baking soda)

¾

tsp

salt

(make sure it's regular table salt)

½

tsp

pepper

3

tbsp

chopped spring onions/scallions
1

tsp

vegetable oil

pinch

of salt and pepper

1

thumb-sized piece of ginger

peeled and minced

1

tbsp

sweet chilli sauce

2

tbsp

honey

4

tbsp

brown sugar

5

tbsp

dark soy sauce

1

tsp

lemon grass paste
Preheat the oven to 120C/250F and place a rack on a large baking tray.

Cut each wing at the joint so you have a mini wing and a drumette. Dry the wings with paper towels, then place in a large bowl and add the baking powder, salt and pepper. Toss to combine.

Place in a single layer on the rack, skin side up. It's fine for them to be touching. Place on the lower shelf of the oven for 30 minutes.

After 30 minutes, turn the oven up to 220c (425f), rotate the tray and place on a higher shelf in the oven for 45-50 minutes until the wings are golden and crispy. Take out of the oven to cool slightly.

Place all of the sauce ingredients into a saucepan, stir and bring to the boil. Allow to bubble for 5-10 minutes until the sauce reduces and thickens slightly (it will thicken more as it cools). Turn off the heat.

Place the wings in a large bowl and very carefully pour over the sticky sauce (be careful, it will VERY hot). Toss to combine, then serve topped with chopped spring onions.