CARAMEL APPLE CUPCAKES
These
Caramel Apple Cupcakes
are made with a spiced apple cupcake topped with caramel icing. They totally melt in your mouth and are the perfect use for all those apples!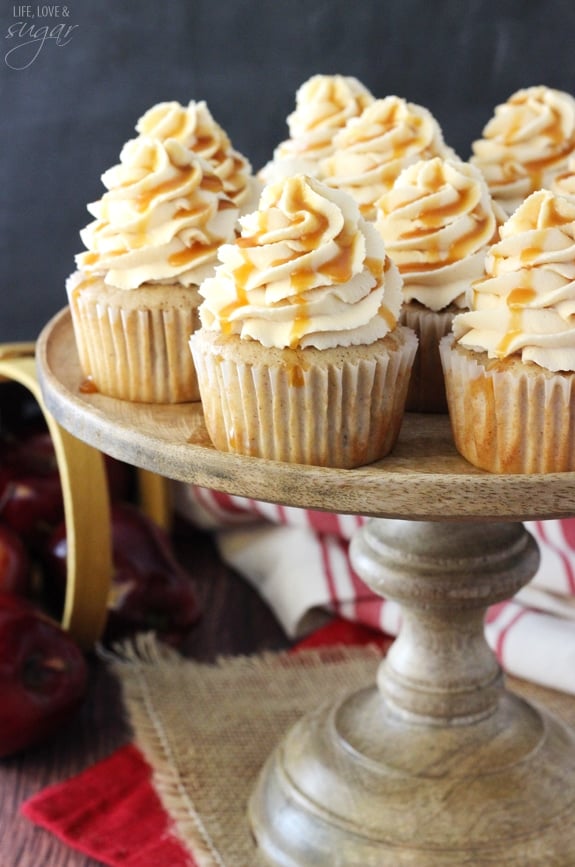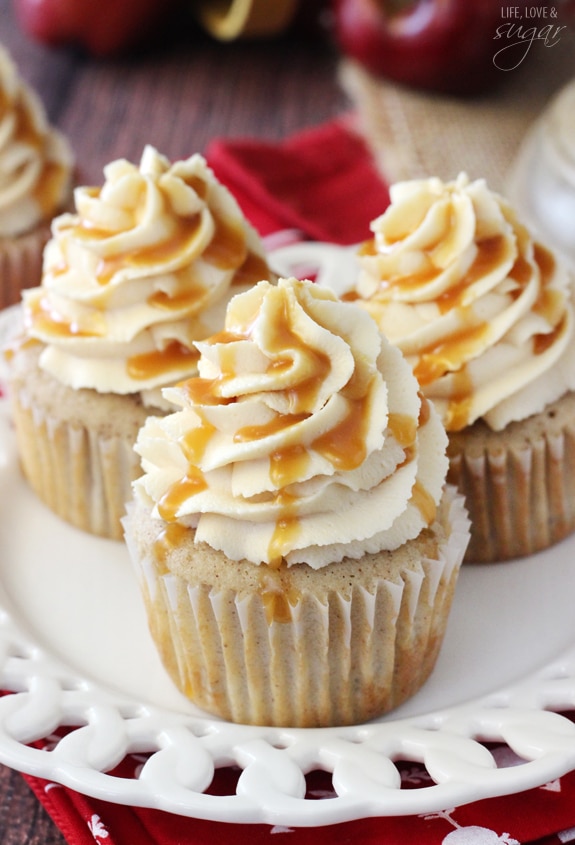 So please tell me I'm not the only one that has those moments where you say something totally dumb without meaning to. The hubs gives me a hard time about it pretty regularly.
For example, recently we were driving over to the store and when we got to the parking lot he asked, "Where should I park?" To which I responded, "I don't know. I guess wherever there's an open spot."
Now it may seem like I was being kind of a smartie there, but I wasn't. Something in my brain genuinely didn't connect and I was like, I don't know. Ha!
Of course he knows me well enough to know I didn't mean it meanly and he laughed at me and said, "Yes, I know to park in an open spot, but where? By which store?"
Ohhhhhhh! Right! Yea, over there. Oops.
I had another one of those moments with a friend this weekend and felt like an idiot – again. Oh well. Let's just call them my Jessica Simpson/Chicken of the Sea moments. They happen to all of us, right?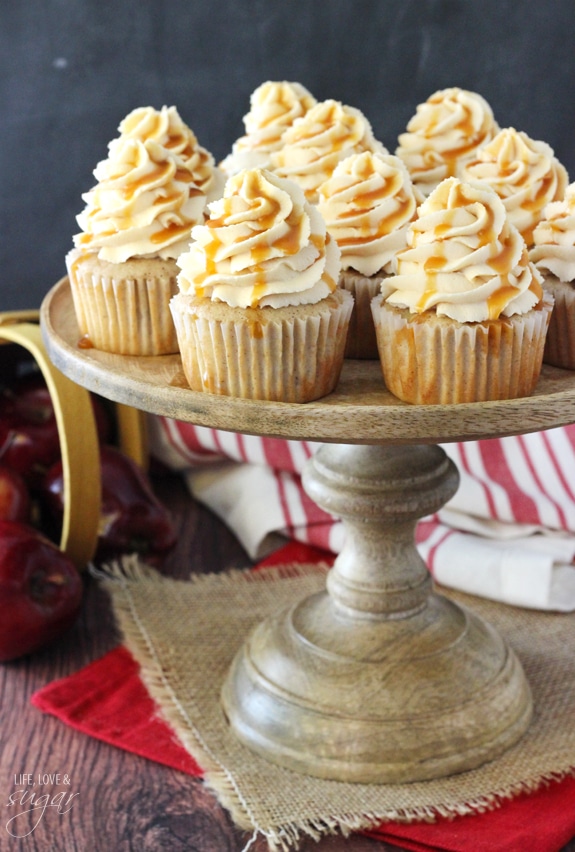 Well these cupcakes should totally happen to all of us too. It's only fair. When cupcakes are this good, they deserve to baked, shared and eaten by all! If I could, I'd hand you one right through the screen.
I totally love a good, moist cupcake and these are just that. Moist for days. Plus, only one bowl needed for a very simple mixing process.
Add to that that they are spiced with cinnamon and nutmeg and full of apples, and I'm in heaven. Top that with caramel icing and it's an overload of fall goodness. Put a toothpick in me, I'm done. (
Do remember the caramel sauce I posted last week? And how I mentioned that you should go ahead and make it because you'd want it later? Well, it's later. And these cupcakes are calling you.
CARAMEL APPLE CUPCAKES
INGREDIENTS:
1 2/3 cups all purpose flour
1/2 cup brown sugar
1/2 cup sugar
1/4 tsp baking soda
1 1/4 tsp baking powder
1 tsp cinnamon
1/8 tsp nutmeg
3 egg whites
2 tsp vanilla extract
1/2 cup sour cream
1/2 cup milk
3/4 cup salted butter, slightly melted
1 large apple, peeled and chopped
CARAMEL BUTTERCREAM
1 cup butter
1 cup shortening
8 cups powdered sugar
3/4 cup + 2 tbsp caramel sauce
DIRECTIONS:
1. Preheat oven to 350 degrees.
2. Whisk together flour, sugars, baking soda, baking powder, cinnamon and nutmeg in a large mixing bowl.
3. Add egg whites, vanilla extract, sour cream, milk and butter and mix on medium speed just until smooth. Do not over mix.
4. Stir in chopped apples
5. Fill cupcake liners about 3/4 full.
6. Bake 17-19 minutes.
7. Allow to cool for 1-2 minutes, then remove to cooling rack to finish cooling.
8. To make the buttercream, bombine butter and shortening and mix until smooth.
9. Add 4 cups of powdered sugar and mix until smooth.
10. Add caramel sauce and mix until smooth.
11. Add remaining powdered sugar and mix until smooth.
12. Top cupcakes with icing and a drizzle of caramel.