STRAWBERRY BANANA BREAD
Banana Bread gets a fun new twist with the addition of fresh strawberries! This Strawberry Banana Bread starts with the BEST Banana Bread recipe and adds just a few simple ingredients to take it to the next level. Perfect for breakfast, snack, or even dessert…this recipe is packed with delicious flavor and sure to become a new favorite. If your family loves fresh, homemade bread, they'll go crazy for this delicious Strawberry Banana Bread! And you'll love how easy it is to make!
Happy Valentine's Day, everyone! Are you celebrating!? It took us a while to get there (to be honest, I hadn't given any thought to it until Sunday afternoon)….but I must say. We recovered quite well.
Valentines were chosen and filled out Sunday night, gifts for Jorden and the girls were purchased yesterday, we had a family Valentine's Day dinner last night, class parties are today, there's a dinner reservation for Saturday night….
Yes, all in all, it's another successful Valentine's Day in the books. Just in the knick of time.
And now…..we wait for spring! Right?!?
Seriously, though….how much more of this cold and snow can we take? I, for one, am nearing the end of my rope. Which is probably why I've been buying all. the. strawberries.
Because naturally, strawberries make me think of summer. And thinking of summer? Well, it makes me happy. So I've been buying strawberries on top of strawberries. Restocking our supply before it's even gone. Sending them to school in the girls' lunches. And occasionally thinking to myself, "I should really bake with these!"
So the other day it finally happened. I had strawberries in my fridge and ripe bananas on my counter….and I knew exactly what I needed to do.
I mashed up the bananas, sliced up the strawberries, got out our favorite banana bread recipe (the one I grew up with, of course), and within minutes, I had a delicious loaf of Strawberry Banana Bread baking in the oven.
My family loves banana bread any way we can get it, and we especially love putting fun new twists on it. Like this Coconut-Rum Banana Bread, made with
real
rum
,
or this Hot Chocolate Banana Bread with Marshmallow Drizzle. Both start with the same basic recipe as this Strawberry Banana Bread but end up perfectly unique and totally delicious.
The BEST thing about this bread? It was fresh and ready to be eaten by the time the girls got home from school. Which always feels like a win. And honestly…would have made a perfect Valentine's Day gift!
Not only is this Strawberry Banana Bread super moist and chewy and flavorful, but there's something about the fresh strawberries that makes it feel a little extra special. Not just your ordinary bread. The girls devoured most of it in one sitting, and to be honest, it's probably just about time for me to make it again.
And then? The next recipe on my "must try" list? This Peanut Butter Banana Bread. Because…peanut butter! And that maple glaze! You can't go wrong!
But first….this Strawberry Banana Bread.
How to Make Strawberry Banana Bread:
Start with very ripe bananas. In fact, the riper the better! I will often take overripe bananas and put them in my freezer, then thaw them out later to use for banana bread. Why do overripe bananas make the best banana bread? There are 3 basic reasons: they're moist, they're sweet, and they're easy to mash. So even if you need to wait a few days to let your bananas ripen, it will be worth the wait!
Use fresh, NOT overripe strawberries. While you want the bananas to be overripe, the same is not true of the strawberries. Fresh, firm strawberries will hold up better in this bread.
Measure your flour correctly by spooning it into your measuring cup, then leveling off the top. Do NOT scoop it using your measuring cup or you will end up with too much flour in the batter.
Bake until the top is a rich golden brown and the center is completely set. Because all bread pans are different sizes and shapes, the baking time will vary. So rely less on the time listed and more on whether the bread looks and feels done.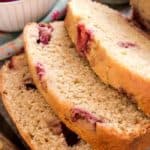 Strawberry Banana Bread
Total Time
1
hour
15
minutes
Ingredients
2 1/2

cups

all-purpose flour

1

cup

granulated sugar

3 1/2

tsp.

baking powder

1

tsp.

salt

1

tsp.

vanilla

3

Tbsp.

cooking oil

3/4

cup

milk

1

cup

mashed banana

(approx. 3 overripe bananas)

1

egg

1 1/2

cups

sliced strawberries
Instructions
In a large mixing bowl, combine all ingredients except sliced strawberries.

Mix by hand or mixer until ingredients are well-blended.

Gently stir in sliced strawberries.

Pour batter into greased & floured bread pan.

Bake at 350° 60-70 minutes or until top is golden brown and center is completely set.
Nutrition Facts
Strawberry Banana Bread
Amount Per Serving
Calories

231
Calories from Fat 36
Total Carbohydrates

43g
14%
* Percent Daily Values are based on a 2000 calorie diet.